Milan "Red Church" and Dan Flavin Installation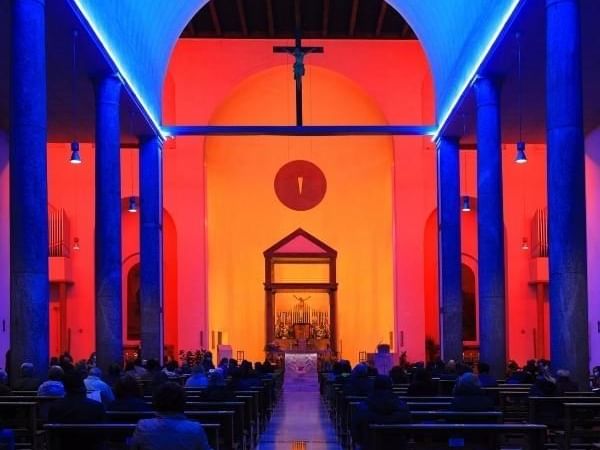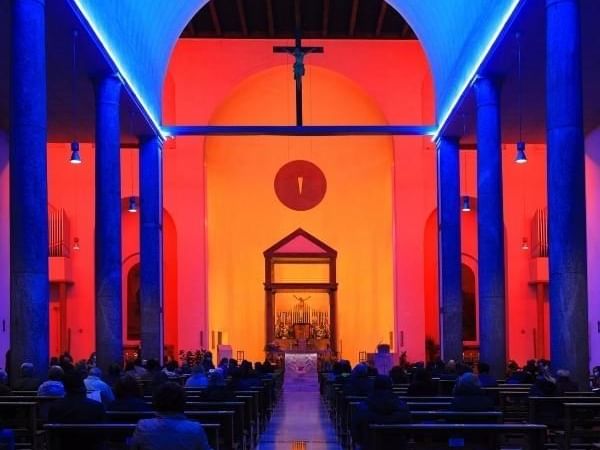 The Chiesa Rossa (Red Church) is a place of worship that stands in one of the oldest areas of Milan, along the Naviglio Pavese in Via Neera 24, in the Conca Fallata area.
The basilica is also known as Santa Maria Annunciata in Chiesa Rossa and is an agglomeration of buildings built from the tenth century until the seventeenth century around existing structures.
The construction of the church began in 1926 by the engineer Franco Della Porta in neo-Romanesque style, and was finished in 1932 by the architect Giovanni Muzio, who profoundly influenced its appearance.
Its monumental austerity, that typical of the Lombard Romanesque style, with its exposed bricks on the outside, has intrigued many artists who have preferred this building for the exhibition of some works of art; an example is the youthful sculpture of San Giovannino, by Giacomo Manzù, placed above the baptismal font.
Dan Flavin Installation
Since 1997 it has permanently hosted Untitled, the last site-specific work of the minimalist artist Dan Flavin, whose design, stimulated by a letter from the parish priest to the artist, was completed two days before the author's death, which occurred on November 29, 1996.
The work was realized and installed only the following year thanks to the interest of the Dia Art Foundation of New York and Fondazione Prada. It consists of blue and green neon tubes for the nave, red for the transept, gold for the apse; in the transept and apse there are also rows of Wood's light neon.
Dan Flavin's installation can be visited daily from 4 to 7 p.m. - with exceptions related to parish activities.